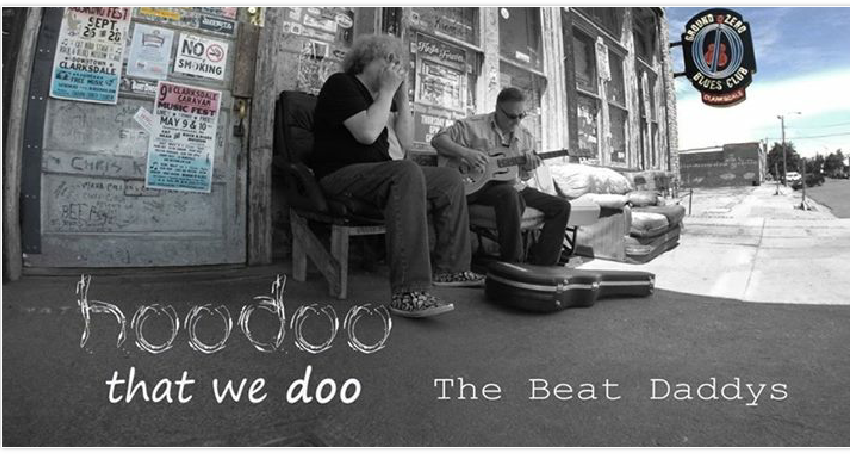 ………"Soulful vocals capturing the pain and wonder… driving electric guitar..."
Blues Access Magazine
The Beat Daddys are not your run of the mill blues band. They are different. They "know something." It's the blues with a large dose of artistic creativity. Good stuff, top to bottom."
-Michael Buffalo Smith- Gritz Magazine-Swampland
"A smokin' four piece band. Singer, Harp player Larry Grisham and guitarist Tommy Stillwell, originally from Indiana, have got a great sound! Don't take my word for it - check these guys out for yourself.
Our Blues Breaker Hit of the Week!"
Elwood Blues (Dan Aykroyd) - The House of Blues Radio Show
"...feels like Johnny Winter and Carl Perkins meet Bob Seeger and Mitch Ryder." - Spin Magazine
"…Witty lyrics, terrific guitar sounds… a fine collection of songs played by great musicians."
Northwest Florida Blues Society
The Beat Daddys deliver no-nonsense Blues on - hoodoo that we doo
"It delivers the goods without posturing or exaggeration…
…an engaging album that wins you over quickly . These guys don't swagger, they just walk the walk".
By: Lawrence Specker | AL.com
"Great in your face, Southern rockin' Blues!"
Jeff Funk * 96.1 Mobile, AL
"Blues never tasted so good!"
Terry O. * 96.1 KLPX Tucson, AZ







It is remarkable how easily and without any noticeable effort the guys play their songs. It provides a relaxed atmosphere on the album. But do not think it is tedious and boring. On the contrary, the music is exciting and compelling. The swamp-/gospel blues of "These Chains", soul blues of "Been Thinkin'", the up-tempo "The Blues Can Heal Ya' "and the rocking "I Need A Woman" we hear quite a wide range of blues styles.
No boundaries are shifted, but also within them there is enough beauty to discover. Each song is of a very high level; it is difficult to name the best one. So I won't. I recommend you listen to the album yourself.
-Eric Campfens- Barn Owl Blues
The Netherlands
Copyright © 2015 The Beat Daddys All rights reserved. Made By Serif. Terms of use | Privacy policy